Attendance and Holidays
Regular attendance and punctuality are very important if children are to achieve their educational potential. Statistics show that children who attend school regularly make more progress and achieve better than those who do not. Every lesson is important and it can be difficult for children to catch up if they miss too much of their learning. However, it is highly likely that a child will be unable to attend school at some point, usually due to illness. Parents have a legal responsibility to ensure that their child attends school regularly. The school and the Educational Welfare Officer monitors attendance and punctuality regularly. Letters will be sent to parents when attendance falls to raise awareness of the potential impact on children's progress and sense of well-being.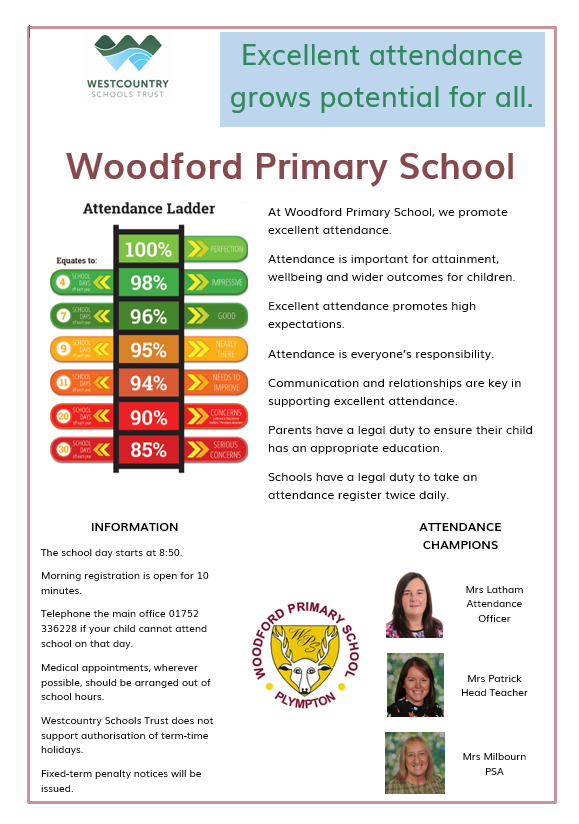 Attendance Data 2021-22
Number of children on roll : 451
Percentage of attendance: 94.51%
Authorised Absence= 4.2%
Unauthorised Absence= 1.3%
If your child is unable to come to school parents must inform the school office by 9.15am on the morning of the first day of absence. Acceptable reasons for absence are sickness, bereavement, religious observance, exclusion and external exams. Such absences are considered 'authorised'.
If your child is absent due to a medical appointment or other circumstances, please complete an application for early leave or leave of absence to attend a medical apt and return it to school prior to the appointment taking place.
Requests for all known absences must be made on the appropriate form, available from the school office or downloaded from this site.
'Unauthorised' absences are those for which permission is not granted or for which an explanation is not received.
Late Arrival
Children who arrive at school after 9.00 a.m. must report to the office to explain the reason for their late arrival in school and make their lunch choice for the day.
Regular and habitual lateness for school is not acceptable as it :-
Disadvantages your child educationally because they then do not know what to do and they have to catch up.
Disrupts teaching time when lessons have already started.
Involves the remarking of registers.
Affects the provision of school meals
Conveys a message that lateness is acceptable.
Being punctual and arriving at school on time will ensure that your child is able to settle, organise themselves and ready to learn every day, establishing good habits which will prepare them well for later life.
School Attendance – Penalty Notice letter
Download Penalty Notice letter here
Above 97% – Less than 12 sessions (6 days) absence a year
Excellent Attendance! These students will almost certainly get the best grades they can, leading to better prospects for the future.
95% – 20 sessions (10 days) absence a year
These pupils are likely to achieve good grades. Students who take a 2 week holiday every year can only achieve 95% attendance
90% – 38 sessions (19 days) absence a year
Students in this group are missing a month of school a year. It will be difficult for them to achieve their best
85% – 58 sessions (29 days) absence a year
The government classes students in this group as 'Persistant Absentees' and it will be almost impossible for them to keep up with work. Parents of students in this group could also face the possibility of legal action taken by the local authority.
Please find below our attendance related forms.