​Curriculum at Woodford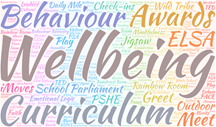 Our curriculum is balanced and broadly based. It consists of all the activities designed or encouraged in the school to develop the intellectual, personal, social and physical attributes of the children.
We aim to help our children, with the support of their parents to:
Develop into happy and confident individuals with a secure foundation in learning that will last throughout their lives

Develop lively and enquiring minds through knowledge with understanding

Establish a good level of attainment in the subjects contained in the National Curriculum

Value and understand religious and moral beliefs

Develop a respect for the views of others

Understand something of the world in which we live with regard for our mutual dependence on others as individuals, groups and nations

Appreciate human achievements and aspirations
We try to do this by providing:
a school environment in which they can enjoy developing their mental and physical abilities

whole school and individual staff professional development which ensures the highest quality of teaching and learning

opportunities to work with other children and adults in a friendly atmosphere and so develop social skills in co-operating with each other.
Our curriculum includes not only the formal programme of lessons, but the 'informal' programme of extra curricular activities, as well as the features which produce the school's ethos, such as equality of opportunity, the values shown in the way the school sets about its task and the way in which it is organised and managed.
The curriculum is planned and agreed by the staff and governors. The National Curriculum provides a necessary framework and ensures continuity throughout the child's school life. The curriculum detail forms the most important element in the School Improvement Plan, which in turn covers all aspects of school life.

Our teaching is child-centred, in that our pupils are central to all our planning. We have high expectations of our children. They have already learned a great deal so that we start with what is familiar and, using practical activities wherever possible, extend this knowledge. We aim to interest the children and excite them, so that they want to learn and enjoy their new skills. Success is a firm foundation for future learning and we celebrate their successes.

Our planning is detailed, inclusive and differentiated to meet all pupils' talents, skills and abilities. Every class in each year covers a similar curriculum – but will have individual interpretation depending on class needs. The work is matched to the age related expectations of the National Curriculum. Details of the curriculum topics and subjects covered are set out in the individual year group curriculum pages.