New Entrants
We would like to warmly welcome you and your child to our school. We hope you will join us to start your child's education here at Woodford and we are delighted to invite you to join our school family.
You can learn about our school and provision following the links on this page. We look forward to welcoming you and working in partnership.
Our classroom environments:
In our Foundation Stage we have 2 classrooms - Elms and Oaks and 2 shared outside areas - the deck and the garden.
Our covered way:
This is the corridor outside our classroom doors. This is where you will wait in the morning and we will then come into the corridor to meet you.
This is also where you will be collected to go home at home time.
Uniform:
All children are expected to wear school uniform at Woodford. The school colour is maroon and full details can be found under the following Parents tab Uniform
All items with school logos can be purchased at the local Schoolwear Centre near The Range on Billacombe Road, Plymstock or near Sainsburys on Mayflower Street in the City Centre.
Please note that all items of clothing should be clearly marked with the child's name.
Helpful links to preparing your child for school:
https://www.parentkind.org.uk/Parents/Preparing-your-child-for-school
Parentkind - Preparing your child for school

You can help your child look forward to school by removing the fear of the unknown. If they already go to nursery or pre-school the move up to Primary School should be a bit easier, but in any case, knowing what to expect will help.
https://home.oxfordowl.co.uk/at-school/reception-at-primary-school/getting-ready-to-start-school/
For Parents of children starting School in September 2024
Please book a tour using the following link or scan the QR code. We look forward to welcoming you.

Parents new entrants welcome tours 2024 Booking form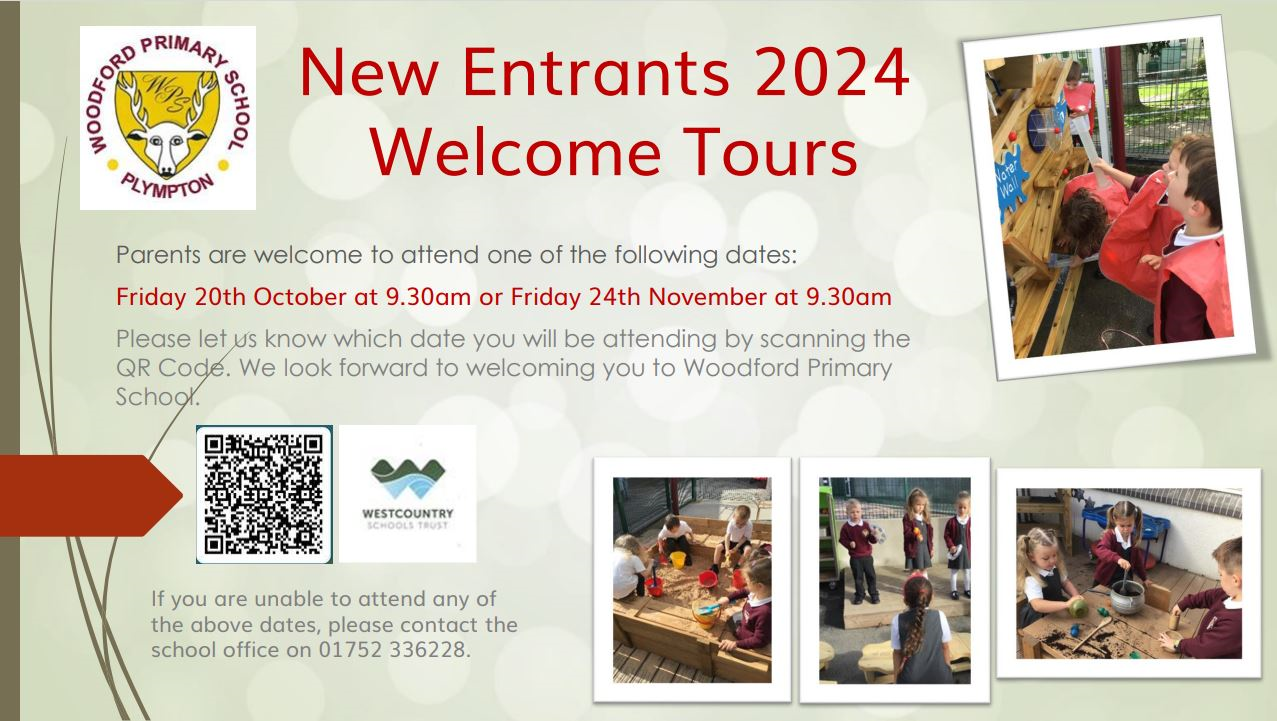 Applications for starting Reception / Foundation can be made between 15 November 2023 and 15 January 2024.
Applying for a Primary School Place: plymouth.gov.uk/apply-primary-school-place
Citizen Portal: https://admissions.plymouth.gov.uk/CitizenPortal_LIVE/en